Junk Kouture EU & UK Education Webinar Series 2021-22
Junk Kouture is launching an online EdWeb series to support teacher and student's participation throughout the competition.
Junk Kouture is up and running! And we want to support you every step of the way! As you know, the aim of the Junk Kouture fashion design competition is to challenge your students to transform everyday 'junk' into wearable fashion before showcasing their finished sustainable designs and backstories to the world in a series of finals. We know it can be daunting to put pen to paper, and just get going! We want to do all we can to help you inspire your students to get moving and start creating & making! We invite you to join us for the first of our new Junk Kouture EdWeb Series, where you can meet the team, get tips from experienced Junk Kouture teachers and alumni, and join in on our live Q&A session, to help get your students kickstarted!
SAVE THE DATE: Tuesday, 30th November, 7-8pm
LOCATION: Live online via Zoom – registration link below
HOST: Dr. Dee Duffy, Director of Education, Junk Kouture
In the meantime, why not visit the Junk Kouture website and find out all our news, including details of our global launch, new CPD training courses for teachers, and our new documentary 'Waking the Muse'!
Register here: https://zoom.us/webinar/register/WN__8HyjAZETvy4o8e398AwJQ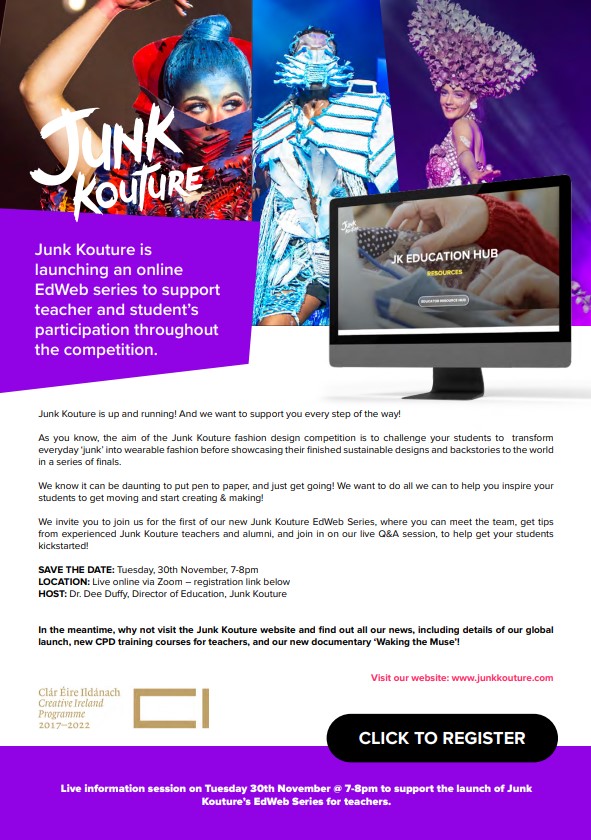 Course Details
| | |
| --- | --- |
| Course Start Date / Time | 30-11-2021 7:00 pm |
| Course End Date / Time | 30-11-2021 8:00 pm |
| Capacity | Unlimited |
| Fee | Free |
| Select Hours | 1 |
| Location | Online |